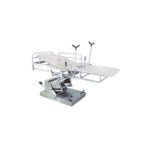 Obstetric Labor Table (Hydraulic)
Hydraulic Obstetric Labor table. Three/Four section top of stainless steel. Frame made of strong SS steel work. Backrest adjustable on ratchet. The whole top can be tilted to Trendelenburg position with the help of lever handle. Conversion is easily and simply performed by sliding the leg section under the middle section. Single action hydraulic mechanism foot operated. Heavy base stainless steel covered with foot locking. The table is complete with the following accessories. Pair of lithotomy crutches, self-locking traction handles, saline rod, side and head railing, stainless steel bowl. Supplied with Rexine covered mattress set.
Optional:
Actuator system for remote operation.