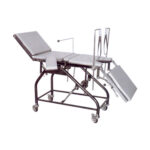 High-Low Operation Table Non Hydraulic
Tubular frame work in EPC finish. Top in three/five section Body, Head & Foot. Top covered with stainless steel sheet. Mounted on castor wheels. Table is manually operated with facility of height adjustment by crank mechanism. Offering a very comprehensive range of positions via, "straight" Trendelenburg and reverse Trendelenburg positions, chair, Kidney Bridge and lithotomy position etc. height adjustment with the help of fine gear mechanism. IV rod, Arm board, Anesthetist's screen and lithotomy poles.
Optional:
Supplied with PU mattress in waterproof cover (Rexine cloth).
All SS fabrication.
Large DIA castors.
Lithotomy crutches padded type.