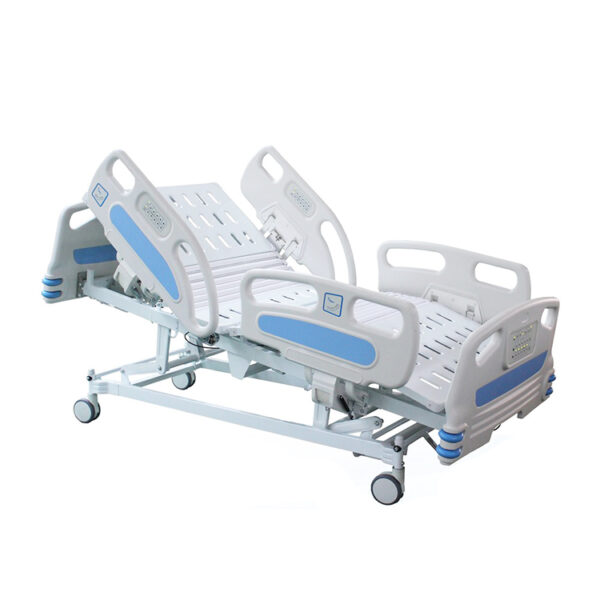 ICU Bed Electric with Abs Panels
Top made of thick CRCA sheet perforated uniformly. Base and mainframe work of precise ERW/CRC steel tubes. Base mounted on 125cm DIA. Swiveling castors, two with break. The backrest and knee rest as also Trendelenburg and reverse Trendelenburg, Hi-Low movement controlled by the Actuators to achieve smooth and efficient operations without any jerks. The level height of bed can be adjusted to facilitate close observation by the Medical staff. ABS molded head and foot bows, easily removable for access to the patient. Fitting: telescopic type SS saline rod with four locations, Drainage bag hooks and protective ABS molded side guard rails on both sides. Integrated stamping fame is steel with epoxy polyester powder coated, baked finish and resistant to chipping and scratching.
Actuator System:
24V DC actuator system
Voltage: 110V/60Hz or 220V / 50Hz
Back-up battery (optional feature)
Function:
Bed height adjustable 270mm (+/-3%)
Backrest lifting angle is 0 degree to 80 degree (+/-3%)
Knee-rest lifting angle is 0 degree to 4 degree (+/-3%)
Optional:
Tuck away half-length or full length safety ABS molded side guard rails.
Removable pair of full length Collapsible or swing off side rail.
Large DIA. Swiveling castors, two with breaks.
Molding bed top and integrated head foot board made by plastic ABS.
CPR pedal: the function make the lifting backrest back to horizontal quickly (within 2-3 seconds).
X-Ray permeable backrest with cassette holder.
Castor with or without central brakes.
Rexine covered foam mattress in four section.